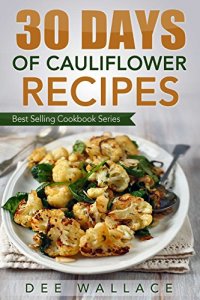 30 Days Of Cauliflower Recipes
Excellent source of vitamin C, folic acid and potassium, cauliflower may help prevent certain cancers. Eaten raw or cooked, cold or hot, cauliflower is so versatile!: gratins, soups, salads, couscous, quiches, mashed, sautéed, etc.
Download Now At The Introductory Price of $2.99!
Start cooking easy, healthy cauliflower recipes for your family today! With so many great recipes, it will be hard to decide which one to prepare first!
Here are some of the recipes you will be making soon:
Cumin & Orange Roasted Cauliflower SoupRed Lentil And Cauliflower SoupParmesan Cauliflower SaladCrunchy Cranberry And Cauliflower SaladWarm Cauliflower DipCauliflower 'Wings' With Honey Mustard Dipping SauceMashed Cauliflower with Stewed MushroomsLoaded Baked CauliflowerScallop, Shrimp And Cauliflower BakeCauliflower Mac And Cheese
AND MUCH MORE!
Download Today!
This cauliflower cookbook will turn any picky eater into a cauliflower fan!