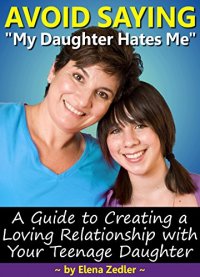 If you're struggling in your relationship with your teenage daughter, then this book is for you!
Read on your PC, Mac, smart phone, tablet, or Kindle device.
Parents often say they don't know how their adorable little princess – ever so kind, polite, and cheerful as she used to be – has recently transformed into a moody teenage stranger who they almost can't stand, and mostly certainly can't understand. But keep in mind, since this phase marks a vast change for her in terms of what's going on with her body and emotions, it should also be a cue for you to consider important modifications to your parenting style.
How is your role as a parent affected by her entrance into the teen years? Why is she acting so different all of a sudden? Why won't she listen to you anymore? Where's this new bad attitude coming from? This book is designed to help you better understand why your teenage daughter acts and reacts the way she does. We will outline the things you can do to help guide, encourage, and direct her through this exciting phase of life – without getting rejected or walked all over in the process. Join me for this short read, and become one of the few parents who can actually understand and appreciate your precious teenage stranger who used to be, and still is, your special little girl.
Here Is A Preview Of What You'll Learn…
How to Transition Into the Teen Years With Less StressIdeas to Strengthen Your Bond and Improve Your RelationshipPicking Your Battles: When to Give In and When to Stand FirmWhat To Do When Your Daughter Talks BackFinding Common Ground and Achieving a BalanceHow Not to Take Her Outbursts PersonallyWhy Your Daughter Needs You to Keep Your Word (Even if That Means Punishment)Much, much more!Download your copy today!