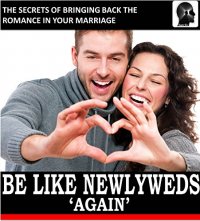 Bargain on 28th Dec 16



or borrow free on Kindle Unlimited.
No reviews yet.
Fix your marital problems with proven strategies and bring your relationship back to newlyweds again
Do you think your marriage is boring? A wedding is a magical experience but marriage takes a lot of work. If you want to keep your spouse happy, then you must be willing to exert effort that can help bring back romance in your lives. Marriage can be fun, exciting and full of adventure. Your spouse is not your enemy. Your days don't need to be filled with misunderstandings and shouting matches! This book can change your life in so many ways! You can have a more peaceful home and a much happier family. Are you ready to bring back love in your life?
Here Is A Preview…
*Learn why marriages fail

*Learn to identify danger signs in a marriage

*Learn to understand your spouse's language of love

*Learn how to communicate well with your spouse

*Learn the most effective ways to fight with your spouse

*Learn how to deal with your differences

*Learn to make your spouse happy through romantic gestures

*Debunk common marriage myths

*Learn how to find happiness in your relationship in spite of your differences

*Much, much more!
Download Today!
tags: marriage problems, newlyweds, better relationship, improve marriage, marriage book, avoid divorce, marriage help, marriage books