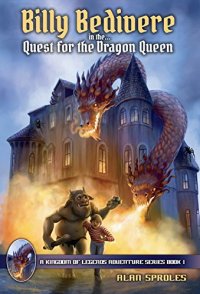 Free on 6th - 9th Jul 16



or borrow free on Kindle Unlimited.
No reviews yet.
Would you like to leave on a camping trip poor and come back rich? But what if that meant fighting magical creatures like a vicious huge blue bunny, or a big black bear, or man-eating trees or a two-headed dragon guarded by giant spiders?
That's what happened to Billy on a weekend camping with his dad and friends. Told by his dad not to cross the creek, Billy does just that when he hears the call for help from inside a large cave in the side of a cliff. Billy, the good scout, goes in the cave alone concerned that someone was in trouble.
As he moves deeper and deeper into the cave Billy falls into a vortex that sweeps him into another world. It is a brilliant and very strange place. It appears to be a one-way trip until he acquires some very strange and even famous characters as friends starting with a rose that has been calling out for help because a large bunny has been eating them.
Rose informs him that the only person who can help him get home would be the genie and tells him how to get there.
On the way Billy encounters Hansel and Gretel who accompanies him on his journey. After their near fatal encounter at the chocolate house of the witch they make it to the genie who informs them that the only way home is to defeat the Dragon Queen, a two-headed dragon at Flagara's house of Sad Faces.
To return home Billy must grow up fast if he is to survive and conquer the biggest challenge of his life. He must defeat the two headed Dragon Queen. Does he have what it takes? Billy's new friends – a pixie named Pippy, a talking dragon named Dreadon, the troll Grin and other memorable creatures help him realize he does!
Billy succeeds in getting through the Dark Forest and to Flagara's house of Sad Faces where the great dragon is protected by a hoard of giant spiders. Billy is victorious in his battle with the dragon but that victory will reveal something even more shocking. And that will change everything again!
Order a copy of Billy Bedivere today and join him in this epic fantasy adventure!