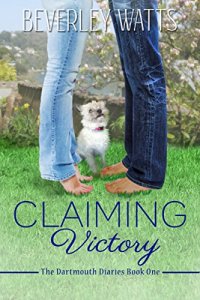 Top - Reviews - Update Details
Claiming Victory is a funny contemporary romantic comedy that will appeal to every woman who still believes fairy tales can come true…
…"So let me get this straight Admiral. Your plan is to somehow get the most famous actor in the world, to fall in love with your daughter Victory, who we both love dearly, but – and please don't take offence Sir – who you yourself admit is built generously across the aft, and whose face is unlikely to launch the Dartmouth ferry, let alone a thousand ships…"
Victory Shackleford is a spinster, or at least well on the way to becoming one. She is thirty two years old, still lives with her father – an eccentric retired Admiral, and the love of her life is a dog.
She thinks her father is reckless, irresponsible, and totally incapable of looking after himself. He thinks his daughter is a boring nagging harpy with no imagination or sense of adventure and what's more, he's determined to get her married off.
Unfortunately there's no one in the picturesque yachting town of Dartmouth that Tory is remotely interested in, despite her father's best efforts.
But all that is about to change when she discovers that her madcap father has rented out their house as a location shoot for the biggest blockbuster of the year. As cast and crew descend, Tory's humdrum orderly existence is turned completely upside down, especially as the lead actor has just been voted the sexiest man on the planet…
Full of romantic humour, Claiming Victory is a must for fans of funny love stories – especially quirky British Romantic comedies.