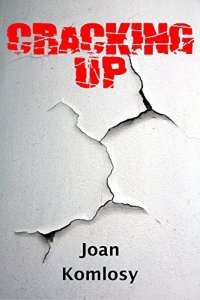 Jools Holland: "Entertaining and well-written".
Sir Ranulph Fiennes: "Joan's matter-of-fact lively style of writing, spiced with the mention of household names from the rock and pop world, is sure to entertain".
'Cracking Up' is loosely based on the real-life experiences of Joan Komlosy.
For Lily Francis, coming to terms with a broken marriage, children going their separate ways and the dole queue beckoning is hard enough. But when the landlords want the flat she's been renting for 25 years – the only stable thing in her life – the term 'midlife crisis' takes on a whole new meaning.
Now a reluctant 'born again singleton' Lily, an impoverished antique dealer and struggling freelance journalist begins to rebuild her life and attempts to start again. If only her once successful husband hadn't dragged out the divorce she would have been self-supportive and the family silver might not have ended up in Bermondsey market.
'Cracking Up' is humorous, touching and entertaining and will appeal to anyone male or female, who has had to start again from the bottom – older, alone and flat broke – there are many out there.