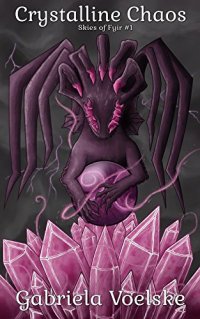 Bargain on 8th - 12th Mar 20



or borrow free on Kindle Unlimited.
No reviews yet.
Version 2.0 is live! If Amazon won't update it for you, send me a message at Gabriela@skiesoffyir.com and I'll hook you up with a .epub file of it, just send me proof of your order.
Welcome to Fyir.
The world of Fyir is a place rife with discrimination, due to its turbulent past. The Central Isles are certainly no exception to this; their small residing populations of angels, demons and humans are forever locked in petty skirmishes and short-term wars. When a new, unknown threat emerges and threatens to destabilize the tiny continent, can the opposing races set aside their differences in order to save themselves?
These are dangerous times indeed…
Enjoyed the first book? Want to read more? How about a hand-picked selection of sample chapters from the prequel book of the Skies of Fyir series; Dangerous Times? Get your free chapters from here! https://skiesoffyir.wordpress.com/
Nathaniel has risen to power on the Central Isles, ruling over the demon population that lives there. A few years after the start of his reign, the tensions start to reach a peak as the demon population begins to dwindle, victims of supposed angel attacks.
A young mage from the South is recruited to serve as the King's court mage; a powerful demon known as Amnur. He is eager to take on his new responsibilities, but soon finds that the dream he was sold has a dark, cruel reality.
Website: http://skiesoffyir.com
Tumblr: http://www.saku-the-rawr.tumblr.com/