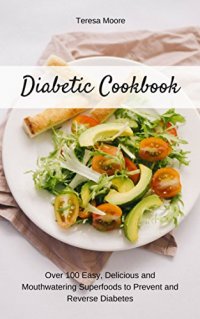 Discover Diabetic Cookbook: Over 100 Easy, Delicious and Mouthwatering Superfoods to Prevent and Reverse Diabetes
Here You Will Find The Ideal Recipes That Make Your Evenings So Much Easier!
Today only, get this Kindle book.
Read on your PC, Mac, smartphone, tablet or Kindle device.
Read for free on Kindle Unlimited AND get a FREE BONUS e-book!
This Recipe Book Is The #1 Things You Need To Make Healthy, Easy and Delicious Meals!
The most delicious and useful diabetic recipes. They will help to properly balance the diet and make up an individual diabetic diet. Recipes for diabetes should contain a minimum of simple carbohydrates, more useful vitamins, minerals and protein.
Learn How To Make These Easy Recipes
Omelette in the instant pot
French ratatouille
Lentil soup in Greek
Buckwheat with chicken in tomato sauce
Chicken cutlet cutlets
Porridge of red lentils with curry
Do You Want To?
Make Delicious Meals?
Save your time?
Don't delay any more seconds, Scroll Up, GRAB your copy TODAY and start cooking!