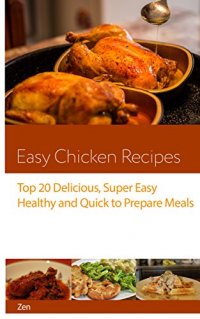 Bargain on 21st Dec 16



or borrow free on Kindle Unlimited.
No reviews yet.
This book has given you a wide variety of chicken dishes to choose from. The taste and flavor of each dish is unique. We have put together dishes from around the globe. You can surprise your family and friends with each one of these dishes. You can experiment a little bit with these recipes but the underlying flavors and aromas should not be tampered with. These dishes are loved by foodies around the world.

Chicken has tremendous nutritive value to. Being rich in proteins, it helps in building and maintaining muscles. It is a lean meat that contains relatively small amount of fat. The fat content in chicken is the unsaturated kind that protects the body against heart diseases. Chicken contains high quality proteins that are rich in essential amino acids. Chicken is a natural anti-depressant and reduces your stress levels. Chicken is a good source of energy that can boost your metabolic rate. It is excellent for maintaining bone health. The selenium and niacin content in chicken protects the body from cancer.

When you enjoy these chicken dishes, you can rest assured that your family's health is being taken care of. It gave me tremendous excitement to write this book for you. Hope you will be equally excited to try out these wonderful dishes and enjoy the fruits of your efforts with your loved ones.