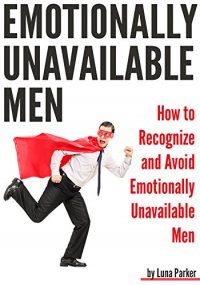 If you're afraid you might be in a "relationship" with an Emotionally Unavailable Man, or, if you just want to learn how to recognize one so you can avoid him from the get-go, then this book is for you!
Today only, get this incredibly useful guide for only $2.99. Regularly priced at $4.99. Read on your PC, Mac, smart phone, tablet or Kindle device.
Emotionally unavailable men (EUMs) are some of the worst men to be in a relationship with. They don't want to form a stable bond with you; instead they choose to spend as little time as possible with you, using you for fun but not for a true connection. If you've been in a relationship with an EUM, or have been around a few for any length of time, you'll know that they come in as many varieties as there are layers in an onion. They can't be differentiated based on looks, intelligence, tastes, age, or any other easily identifiable attributes at first glance. However they do the most damage in a relationship, and are often quite mentally and emotionally scarring to be involved with. How, then, should you go about identifying them? There are plenty of traits that they do share in common, and you will be able to identify these but only if you know where to look. And that is exactly what we'll be discussing in this book.
Here Is A Preview Of What You'll Learn…
Red Flag #1: Excessive MystiqueRed Flag #2: O Lover, Where Art Thou?Red Flag #3: Junkie JunctionRed Flag #4: The King of Non-CommittalRed Flag #5: Mr. WomanizerRed Flag #6: Pinging, Not ClingingRed Flag #7: Intense Self-ObsessionRed Flag #8: Past, Oh Glorious Past!Red Flag #9: Catch Me If You CanRed Flag #10: Oh Honey, It's All Yours!Much, much more!Download your copy today!
Tags: emotional intimacy, emotionally unavailable husband, emotionally unavailable boyfriend, emotionally unavailable man, emotionally unavailable, how to understand men, emotionally unavailable men, understanding men, emotionally unavailable men characteristics, emotionally unavailable husband, emotional intimacy, emotionally unavailable boyfriend, emotionally unavailable man, fear of commitment, afraid of commitment, commitment phobe