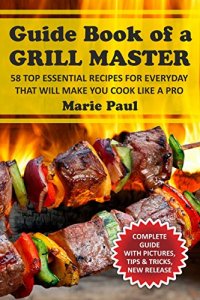 Free on 21st Apr 17


No reviews yet.
Also Available as:
Print Edition

This book appears to be unavailable on Amazon.co.uk at the current time. If this is incorrect, please let us know here

Discover book "Guide Book of a GRILL MASTER: 58 TOP Essential Recipes for Everyday that Will Make you Cook Like a Pro" by Marie Paul Including FREE BONUS!!!
Today only, get this Kindle book for just $1.99. Regularly priced at $9.99. Read on your PC, Mac, smartphone, tablet or Kindle device.
Is There Some Magic Way To Make The Best Meal You Have Ever Tasted? Absolutely!
Start Your Next Outdoor Party & Get ALL the amazing ideas & recipes today and create the perfect homemade food.

Here's the real kicker
The Guide Book of a GRILL MASTER is a #1 Most Exclusive Recipe Book Ever. Unlike other cookbooks, guidance and recipes, the Guide Book of a GRILL MASTER has been created to focus on Grilling & Smoking Techniques and The Most Explosive Flavours.
You'll Never Guess What Makes These Recipes So Unique!
After reading this book, you will be able to:
Combine Unusual Flavours
Use New TechniquesCheck Helpful Photographs And TablesGet Equally Delicious ResultsFind Ideal Recipes For BeginnersGet ingredients For The Perfect Grill Party
These recipes are fantastic for satisfying all your family members!
crowd-pleasing mouth-watering photos fun tips plenty of meat impressive side dishesinstructive & easy to comprehend Now, you're probably wondering…Why you need this book? These recipes will give you:
Good time with family & friends
More flavor, smell, and, yes, the compliments.
Country's best barbecue
Award-winning secrets
Tender meat that falls off the bone
Whether you're looking for a beginner's guide, seeking some grilling ideas, or just trying to get mouth-watering recipes you'll be inspired to start BBQ!
"Umm, what now??
Here's Some Recipes To Try!
Grilled Chicken with tomato and avocado salsa
Bourbon Spiced Chicken Wings
Buffalo Pineapple Grilled Chicken
Grilled Sweet and Spicy St. Louis-Style Ribs
Apple Cider BBQ Pulled Pork
Grilled Chipotle Maple Salmon with Wilted Spinach
Grilled Crawfish with Spicy Tarragon Butter
Use these recipes, and start cooking today!
As a GIFT, at the end of the book I'm going to give you a BONUS – FREE Recipes eBook!!!Satisfaction is 100% GUARANTEED!
© 2016 All Rights Reserved!