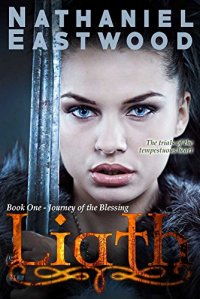 Free on 21st - 24th Mar 15


Top - Reviews - Update Details
This book appears to be unavailable on Amazon.co.uk at the current time. If this is incorrect, please let us know here
The world is full of silly, sappy, sweet romances, but few, precious few are written for the purpose of sharing the power and the intensity of love as it is meant to be. Salacious and ribald stories titillate, and perhaps even illuminate, but what can only be described as a micro-epic has been created.

Liath, is the tale of an odyssey that brings a girl to womanhood, and a nation from ignorance to illumination. Along the way she will experience the spectrum of love's many splendid things, from rapture and wanton, to purity and pleasantness, in the span of a year-long voyage. Liath (pronounced Lee- ath) is the gray-eyed daughter of a trader from Dublin, and she comes of age in an age not ready for such beauty.

Our story dawns at the beginning of the Great Famine in 1315. Knowing two languages, Gaelic and Latin, but compassionate beyond her years, she will cross the world to find answers to her prayers, and a love that burns brighter than she ever dreamed. The bright hearts she finds along the way brighten her path, but of all her passions, which one will win her heart?

• Garrick Wodesyde, the brash and impetuous blighter who steals a kiss – and betrays her, in the name of stealing family's legal claims to their land?

• Dyllon Furrywygge, the wistful wandering knight, hoping for the honor his family denied him, whose capture of a beautiful and treacherous Irish spy can change his fate, and holds hers in his hands?

There would be many hearts left broken along the way, but which love would win hers? She is making her way to meet the Voice of God personified. How will he answer her pleas for mercy?

Don't wait another moment. Download this book, and help Lia. You may be the only one who can.