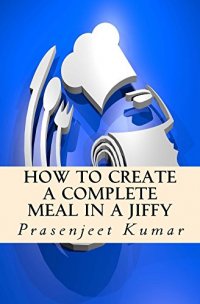 Presenting a Meal Planning Cookbook Like No Other Cookbook in the World
From the popular website www.cookinginajiffy.com and the author of four Amazon Bestseller cookbooks comes a cookbook that doesn't focus on recipes.
**BONUS Link inside: For a Limited Time Only: The Ultimate Guide to Cooking Rice the Indian Way Available at NO COST (value $6.99 otherwise) if you purchase this book**
Instead, it shares the secret of creating a FULL MEAL PLAN in around 30 minutes.
How can be meals made simple?
With just Proper Sequencing and Parallel Processing of your actions, is author Prasenjeet Kumar's answer.
˃˃˃ Applying the technique of sequencing to cooking would mean that….
Once you have decided what you would like to cook, you should gather all ingredients and wash, dry, chop, or blend them in the order they would be required in the recipe. French call this mise en place or putting it in place. You certainly can't practice any cooking in a JIFFY without internalizing this first principle of intelligent cooking.
˃˃˃ Parallel processing is the art of juggling two or most tasks at the same time without hopefully affecting the quality of any.
In meal planning diets, this would mean that while you put one dish to cook, you start chopping, blending or whatever for the next dish and so on.
Needless to say, this little planning in advance can reduce both the cooking and preparation time considerably and enable you to prepare a full 3-4 course meal literally in a JIFFY.
˃˃˃ So if till now you didn't know (or hadn't thought about) as to how with proper sequencing and parallel processing you can reduce your drudgery by many, many folds, you have come absolutely to the right place.
˃˃˃ The Concept of Full Meal Planner and Parallel Processing
This book is a humble attempt to let you experiment with this idea of SEQUENCING AND PARALLEL PROCESSING.
In that background, the Book presents around 40 dishes grouped into 10 FULL MEALS consisting of: two "concepts" of breakfasts, four Indian meals, one Thai meal, one Japanese meal, and two Western meals. All are 3-4 course meals and all can be completed in less than 30-minutes.
The examples given are, of course, only suggestive. Once you get the hang of the "philosophy" the author is talking about, you can come up with any number of your own permutations and combinations.
Like the concept? Then just scroll up and add this or any of the other books of Prasenjeet Kumar to your cart.