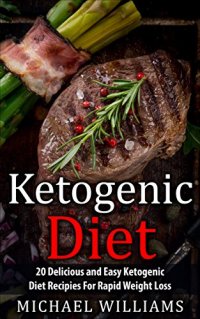 Free on 21st Dec 16


No reviews yet.
This book appears to be unavailable on Amazon.co.uk at the current time. If this is incorrect, please let us know here
20 Amazingly Delicious and Easy Ketogenic Diet Recipes
This book contains proven diet recipes that will shed your fat rapidly while eating amazingly tasty dishes.
Most people actually quit their diets early because they usually eat things they don't like, over and over again, which gets very boring in the long run. That's why this book will help you to cook a big variation of the best ketogenic dishes out there.
What is Ketogenic Diet and how does it work?
The Ketogenic Diet is a low carb diet that aims to improve health by burning fat to speed up metabolism instead of letting it turn into glucose. This happens through a certain metabolic state called Ketosis, wherein the body is able to burn fat molecules and turn them into energy.
Ketone bodies are also proven to be beneficial because it protects the body against certain medical conditions such as autism, diabetes, epilepsy, cancer, and Alzheimer's, amongst others.
In a Ketogenic Diet Plan, carbohydrate intake is only around 20 to 60 grams per day. This is the kind of diet that relies more on healthy fats, protein, and vegetables. This is to ensure that a person will be able to undergo ketosis and wouldn't ruin the course of the diet.

Also, in a Ketogenic Diet, one is able to turn around 70 to 75% of calories from fat, 5 to 10% from carbohydrates, and 20 to 25% from protein.

Fats actually have little to no effect on insulin and blood sugar levels, making it easy for the body to get what it could from the said diet–and protect you from various diseases!

With the help of this book, you'd learn 20 delicious and exciting recipes that fall under the ketogenic diet plan–and be on your way to a better, healthier you!
Here's a preview of what kind of recipes you will learn
Breakfast: Pizza WafflesLunch: Baked Herbed SalmonDinner: Bacon CheeseburgerSnacks: Lamb and Hummus WrapAnd much, much more
Take action and get in shape NOW! Download this Kindle book today for a limited discount of $0,99!