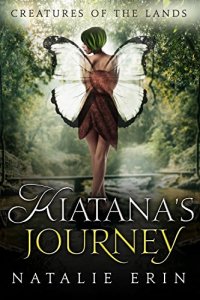 Game of Thrones meets Narnia in the bestselling magical beginning to Natalie Erin's heartfelt Creatures of the Lands series…
Dragons fly, animals can speak and fairies rule over all in the realm they call the Lands, a medieval world of myth and wonder. Kiatana, a princess of fairies, desires adventure, but quickly is given more than she bargained for after she finds a dragon and his fallen rider seeking refuge in her forest. The rider, Keota, is handsome, but has more secrets than Kiatana can imagine. Is this rider one she can trust?
Then the plague arrives. As sickness sweeps across her dominion, Kia has one option; find the cure, or her land will die, and she will perish as punishment for failing to protect it.
With the help of her trusty Pegasus and two motherless wolf cubs, Kiatana and the dragon rider venture to the land of the unicorns, to find help in seeking the cure. Elves, rival fairies, monsters, and mythical creatures haunt the journey, which becomes more perilous with each step. But there is more to this plague than what Kiatana can see, and there's a betrayer hiding in her midst…
Funny and original, Kiatana's Journey is the first installment in an epic young adult fantasy series that honors love, imagination, and friendship. Start this action-packed magical saga featuring witches, fae, dragons, vampires and shifters today!