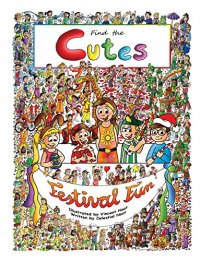 Free on 2nd Aug 17


No reviews yet.
This book appears to be unavailable on Amazon.co.uk at the current time. If this is incorrect, please let us know here
Another cute seek and find book!
This is another cute look and find book for children: It's the 2nd one in the series and it's called "Festival Fun." It's mostly for ages 5-older. Enjoy searching for the characters and their items. It is an activity book for children good for hours of fun! It has/is:
– An intriguing story.
– A family focused message.
– 4,402 hand-drawn characters.
– More than 1,500 hours of artwork.
– The first in a series of 10 books.
This book is a must-have!
People who liked the old look and find books will love this one! "Find the Cutes – Festival Fun" is a look and find book for girls and girls. Also check out the 1st book in the series, "Playtime": http://www.amazon.com/Look-Find-book-kids-Playtime-ebook/dp/B00ONF9E2I
Where to use it
Seek and find books are fun for road trips, to get your children away from the TV, to sit down with them and read, for waiting rooms at a clinic, in church, child day care centers, etc. The details are well-polished, cute, and beautiful. It's a lot of fun!
Keep your kids entertained!
Looking for a fun activity book for your child? This is the cutest look and find book! Buy it now! Regular children's books can entertain you for an hour, maybe two. But this look and find book can entertain your kids for hours and hours! The book has 36 pages, of which 24 are double search and find pages. Tired of looking for them? Then there are answer pages in the back, cheat sheets…
Story
The book is about a family with their last name being "Cute." There are 5 kids to look for. The oldest daughter has to babysit her siblings but keeps texting her friends to much, so you're going to help her find them! Sounds like fun? They talk about and go to several festivals, like Christmas, Sinterklaas, Halloween, Chinese New Year, etc. Order it now, and the author and illustrator will sign it if you want.
Tags: #Lookandfindbook #Lookandfindbooks #Searchandfindbook #Seekandfindbook #Lookandfindforkids #Seekandfindforkids