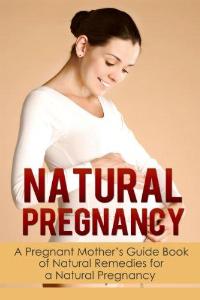 Find Out The Most Effective Natural Remedies for Women Having Natural Pregnancy!
Today only, get this Kindle book for just $0.99. Regularly priced at $4.99. Read on your PC, Mac, smart phone, tablet or Kindle device.
Pregnancy is both an exciting and scary experience for any woman. A healthy pregnancy is crucial as it will determine the overall well- being of both the mother and the baby from conception to birth. If you want to experience a natural pregnancy and childbirth, you should be aware that it is a whole new different concept from the modern conception and pregnancy methods.
With natural pregnancy, a woman is expected to deal with the different challenges in pregnancy using the natural methods. Some of the challenges include: Getting pregnant, pregnancy sickness, pain during pregnancy, discomfort during pregnancy, pregnancy nutrition.
With the hundreds of pregnancy tips that you can read from pregnancy books, only a few discusses natural ways to manage pain and discomfort during pregnancy. Unknown to many expectant mothers, there are natural methods in keeping a healthy natural pregnancy. This includes the use of herbs and nutrition, physical exercise, and meditation exercises. The natural methods completely make a woman avoid pain medications and other unnatural, modern ways that may be potentially harmful for both the mother and the baby.
Natural pregnancy ensures that a woman is taught to prepare herself with the pregnancy challenges including the emotional aspect of the pregnancy. It is expected that a woman can have a healthy pregnancy by having a properly nourished body. This makes her able to sustain a positive environment armed with instinctive knowledge and the avoidance of unnecessary modernized medical intervention.
Learn the following from this book:
What Happens During Pregnancy?
Discomforts of Pregnancy
Natural Remedies for Pregnancy Complaints
Think About Your Baby
Keeping You Both Healthy
A complete pregnant mother's guide should contain natural remedies for common pregnancy complaints like dizziness and fainting, leg cramps, pelvic pain, cough and colds, backaches, headaches, insomnia, etc. not only that, it should also have a section intended to teach a woman how to care for her body and at the same time manage to keep the baby healthy.
Take action today! Learn the most effective and trusted natural remedies for a natural pregnancy! Perfect for expecting Moms!
Grab a copy of this book: "Natural Pregnancy: A Pregnant Mother's Guide Book of Natural Remedies for a Natural Pregnancy" for a limited time discount of $0.99!

Download NOW!
Tags: natural pregnancy, natural pregnancy and childbirth, pregnancy tips, health during pregnancy, conception and pregnancy, healthy pregnancy, pregnant mother's guide, pregnancy nutrition, pregnancy, pregnancy books , pregnancy guide, manage pain and discomfort during pregnancy, pain during pregnancy, pregnancy health, pregnancy care , pregnancy nutrition, eat your way to a healthy pregnancy, getting pregnant, Natural Remedies for a Natural Pregnancy, pregnancy sickness