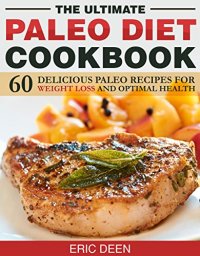 Free on 5th - 8th Apr 15


No reviews yet.
This book appears to be unavailable on Amazon.co.uk at the current time. If this is incorrect, please let us know here
Do you want to improve your diet, lose weight and live a healthier lifestyle while you enjoy delicious meals?
60 delicious and healthy Paleo Diet recipes
A Diet Meal Plan included
In this book you will find direction in how to lead a healthier lifestyle by first trying the healthy Paleo diet plan for beginners offered within these pages. It is a simple and healthy diet to start. It will guide you on how to choose healthier choices in foods that are going to help you to achieve weight loss and become fitter than you ever dreamed possible! The Paleo diet is not new it is what the caveman were eating. Their deaths were not caused by things that we die from today such as cancer and heart attacks. Cavemen deaths were not caused by an unhealthy diet or lack of exercise unlike today. The foods they ate were all organic there was no manmade or synthetic food products like we have today. The Paleo diet is based around simple foods, you need to stay away from grains, processed foods, and sugar.
This is an easy quick read that you will get some wonderful tips and suggestions on how to have a healthy Paleo diet as part of your life, and getting rid of the bad eating habits such as too much sugar and processed foods in your diet. These bad habits are doing nothing for you other than increasing your chances of developing serious health issues such as obesity, and diabetes. You need to make some positive changes in your dietary habits so that you may live a longer and healthier life.
Learn How To:
Prepare healthy mealsImprove your overall healthLose weight in a healthy and safe mannerStart healthy eating habits that you can pass on to your children Get yourself feeling energizedLift yourself out of a depressive state through healthy eatingTreat yourself well – you deserve to be healthy!
Why Should You Download this Paleo Cookbook?
If you are truly serious about finding ways to improve your lifestyle by making healthier choices then you are going to gain some good advice on how to try the Paleo Diet Plan. You will be given a sample two week diet plan in this book along with great Paleo recipes that you can enjoy. Downloading this book would be a positive step in the right direction for you.
Here is a preview of what you'll find inside this Paleo diet cookbook:
Chapter 1 – What is The Paleo Diet?Chapter 2 – The Paleo Diet Breakfast RecipesChapter 3 – Paleo Diet Lunch RecipesChapter 4 – Paleo Diet Dinner RecipesChapter 5 – Paleo Sweet TreatsChapter 6 – Two Week Paleo Diet PlannerAnd much more!
Available on PC, Mac, smart phone, tablet or Kindle device.

© 2015 All Rights Reserved
Are you ready to get started?
Scroll up, click the buy button & get started today!
Download this useful book for just $0.99. Regularly priced at $3.99. – Limited time offer –