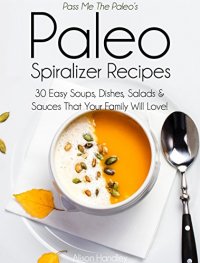 Pass Me The Paleo's Paleo Spiralizer Recipes: 30 Easy Soups, Dishes, Salads and Sauces That Your Family Will Love!
Get this Amazon Bestseller for just $0.99. Regularly priced at $4.99. Hurry, Sale is only good through December 31st! Read on your PC, Mac, smart phone, tablet or Kindle device.
The Paleo Lifestyle is becoming extremely popular but the big knock on it is that it's not EASY. And how can you substitute those fillers, like pasta and rice that aren't Paleo? In this book you will discover TONS recipes that will allow to eat amazingly delicious, HEALTHY food using your Spiralizer or Veggetti!! What more could you ask for as it pertains to the health of you and your family?
Here are all the great recipes you will enjoy
Soups
Bacon and Mussel Chowder
Courgette slices, basil and, Spiralizer Courgette Soup
Spinach and Almond Soup with Spiralized Fried Onions
Thai Chicken, Cucumber and Lime Soup
Carrots and Parsnip Soup with Spiralized Vegetables
Dishes
Slow-cooked Lamb and Vegetables
Venison and Chestnut Casserole
Provencal Fish and White Wine Casserole
Chicken Chunks in a Dijon Mustard Sauce
Chicken in Tarragon and White Wine
Oven Baked Eggs with Sweet potato noodles
Lime and Oregano Salmon Fillets with Leek Parsnip Noodles
Braised Pork Sliced with Fennel
Lancashire Sweet Potato Hot-Pot
Pork and Plums served with Cassava Noodles
Walnut, Brussels Sprouts and Squash Salad
Cucumber, Leeks, Strawberry Poppy seed Salad Dressing
Bacon and Sweet Pea, Courgettes Noodles
Sides and Salads
Paleo Sauerkraut
Aubergine, Cherry Tomatoes & Courgette Salad
Sweet Potato Garlic Infused Fries
Vegetables in a coconut sauce
Mushrooms in Wine
Chestnut au gratin
Hot Mustard Brussels Sprouts and Apple-Almond Salad
Sauces
Basil Pesto Sauce
Cilantro Pesto Sauce
Black Olive Pesto Sauce
Sage Pesto Sauce
Chimichurri Chili Sauce
Free Cookbook Included! Access to "All Day Paleo Recipes: 30 Mouthwatering Recipes for Breakfast, Lunch,
Dinner!"
Download your copy today!
Take action today and download this Amazon Bestseller for a limited time discount of only $0.99 through December 31st!