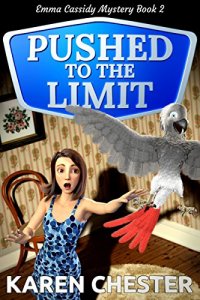 Bargain on 9th Sep 19



or borrow free on Kindle Unlimited.
No reviews yet.
Read for free on Kindle Unlimited.
A gossip queen, a cheeky parrot, and a lot of people with something to hide. But who would kill to keep their secret?
A full-length, standalone cozy mystery.
~~~
Faye Seymour has long reigned as Greenville's gossip queen, but recently she's been at her worst, spreading rumors like wild fire and putting a lot of noses out of joint. Event planner Emma Cassidy has already lost an important client to Faye's loose tongue, and she can ill afford to lose any business. When Emma discovers Faye lying at the bottom of a flight of stairs, the feisty old lady declares she was pushed–and that Emma is the culprit!–before passing out.
As Faye recovers, Emma reluctantly delves into the busybody's life of meddling and scuttlebutt. She has to clear her name before Faye falsely accuses her again, and besides, there's a capricious parrot relying on her now.
What scandalous secrets has Faye unearthed? How many lives has she ruined or threatened to ruin? Plenty of people have a reason to hate her, but one in particular is driven to commit a brutal murder. Can Emma follow the clues to unmask the killer, or will she fall victim herself?
The Emma Cassidy Mystery series:
Book 1: Throw a Monkey Wrench http://www.amazon.com/dp/B01A60ZYWW
Book 2: Pushed to the Limit http://www.amazon.com/dp/B01BHESQA8
Book 3: Murder Most Likely http://www.amazon.com/dp/B01FF9BPO0
Book 4: Witch Way to Murder https://www.amazon.com/dp/B01M1GC7O8
Book 5: In the Dead of Winter http://www.amazon.com/dp/B01N3MBY2Q
Book 6: A Case of Cold Feet http://www.amazon.com/dp/B06X1GVC76