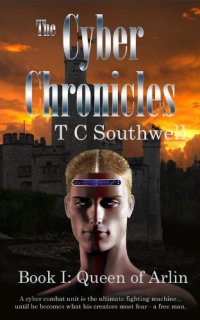 When Queen Tassin Alrade of Arlin is forced to flee her kingdom on the backwater planet of Omega Five, she has no idea that the strange warrior who helps her is a cyborg; the deadliest hi-tech killing machine ever created. Her world has forgotten the technology that almost destroyed it, but then a freak accident damages the micro-supercomputer that controls Sabre, and he is free to take charge of his destiny.
The cyber-bio combat unit has metal-plated bones and internal body armour, and is virtually indestructible. He is trained in every art of combat, able to use any weapon, speak every language and operate any craft, and the data stored in his brain, intended for the supercomputer's use, is even updated at regular intervals.
Sabre agrees to help Tassin escape the kings who pursue her with the intention of annexing her kingdom through marriage, by right of capture. Tassin, however, has never known hardship, and finds Sabre's lack of courtly manners annoying, while he finds the high-spirited and spoilt young queen a trial. Yet he cannot abandon her, for she needs his help, although her high-handed ways always seem to land her, and, by association, Sabre, in trouble.
After she foils several of his attempts to rescue her from the enemy kings' plotting allies and keep her safe, Sabre is left with only one option: to flee into the Badlands, a radioactive desert that was created by a nuclear war centuries ago, at the centre of which lies the most dangerous and dreaded area on Omega Five: the Death Zone.