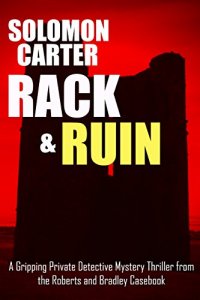 Teenagers frolic in the darkness but their sinister acts are no game. Private detectives Eva Roberts and Dan Bradley are hired to investigate sinister cult activity at an ancient ruin.

Blood is spilled. Lives are ruined. And for one young girl, it's a matter of life or death. But the darkness hides the awful truth.
The investigators must discover who they can trust stop the cult from harming all those it touches. First they must survive the night – and one of its darkest sons…
Fans of Rebus, TJ Brearton, Janice Frost, LJ Ross and Angela Marsons will love Rack and Ruin. A page turning thriller with cliff-hangers!

Rack and Ruin – the first instalment of a thrilling short read mini-series – also available as a superb value complete boxed set.
Rack and Ruin – categorised as:

private detective novel series

private investigator mystery series

Private detective thriller series

Private detective women sleuths

British crime thriller

Gripping detective thriller

Traditional British mystery