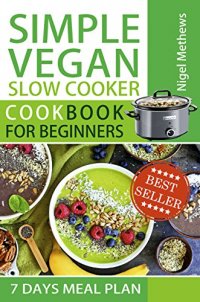 Free on 10th - 11th May 18



or borrow free on Kindle Unlimited.
No reviews yet.
Would you like to create a quick and delicious Vegan Recipes with budget-frendly  Ingredients?
The road to veganism isn't an easy one. You will come across problems from every side, be it a lack of resources, a lack of time, and, in some cases, a lack of support. It's especially hard to transition if you've become accustomed to animal products over time, or if you haven't tried out other plant-based diets in the past.
The Vegan Cookbook for Beginners was made for the everyday cook who wants to add delicious vegan meals into their diet and experience amazing health results.
To help guide you on your journey towards veganism, this book will  equip you with the following:
o    A deeper understanding of what veganism is
o    Things you need to know when pursuing a vegan diet
o    Tips on how to make vegan dieting easier
o    What you need to have at hand
o    Easy recipes to get you started
o    Simple vegan 7-day meal plan to help you get through the week
Plant-based meals celebrate the rich, natural flavors of fruits, vegetables, and nuts, and can provide amazing nutritional value to help you lose weight and help fight the onset of everything from diabetes to heart disease.
Get more out of your veggies, wallet, and time in the kitchen with this book
I will show you the easy way to add vegan recipes into your diet, with 7 day meal plan and easy Vegan Cookbook recipes, from breakfast to dessert.
Now the slow cooker is becoming synonymous with healthy eating as well, offering benefits that increase nutrition while also decreasing cook time and stress.
I hope this cookbook inspires you as you pursue your journey, and also provides new perspectives on veganism as you learn more about it along the way. Best of luck!