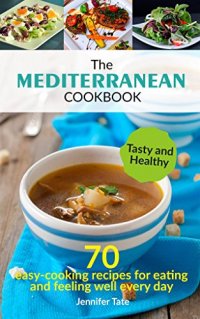 Free on 23rd Jul 19



or borrow free on Kindle Unlimited.
No reviews yet.
The book contains a terrific collection of useful recipes and nutritious foods that contribute to your health and longevity.
The Mediterranean diet helps maintain your weight in normal, and the body in shape. The professional nutritionist conducted careful culinary research and included in the book necessary salads, meat and fish dishes, soups, drinks, desserts and vegetables with countless health benefits that will please you with taste and benefit.
The Mediterranean diet is used when people want to change the eating habits of the healthier or want to lose weight.
The Mediterranean cookbook includes:
70 simple recipes use pure ingredients that provide satisfactory, healthy mealsInformation about popular Mediterranean productsNutrition information for those who watch their weight7-Day Meal Plan
The products and recipes disclosed in this book are basically all you need to maximize your energy and improve your health. With the information provided here, you will find great ideas about nutrition that will make your skin glitter and your mind/body feel good, you will see how easy it is to clean and lose weight, maybe it does not matter without dairy products without soy, paleo, vegans and everything in between.
The choice of this book is an excellent choice, because it is unmistakably equipped with wonderful ingredients that you and your body will love.