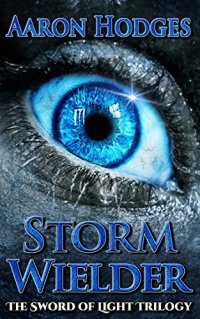 Free on 4th May 17


No reviews yet.
Also Available as:
Print Edition

This book appears to be unavailable on Amazon.co.uk at the current time. If this is incorrect, please let us know here
For five hundred years the Gods have united the Three Nations in harmony.

Now that balance has been shattered, and chaos threatens.
A town burns and flames light the night sky. Hunted and alone, seventeen year old Eric flees through the wreckage. The mob grows closer, baying for the blood of their tormentor. Guilt weighs on his soul, but he cannot stop, cannot turn back.

If he stops, they die.
For two years he has carried this curse, bringing death and destruction wherever he goes. But now there is another searching for him – one who offers salvation. His name is Alastair and he knows the true nature of the curse.

Magic.
What Readers are Saying
Stormweilder is captivating from beginning to end. Stephen, Amazon
Love the first book of the series. Written well. Very [descriptive]. Complex and deep. Looking forward to reading the next book in the series. Wil, Amazon
Great opening – Not afraid to break things in his own world, this author. Steady story with good characters. Good mix of mood shifting: comic moments hit the right notes, and characters sometimes surprised me. Mike.S, Amazon
Fantastic first novel. Cannot wait to see what else comes from Aaron D. Hodges! WHAT HAPPENS TO ERIC NEXT????? Amazon Customer