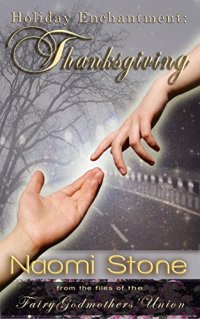 When Helen, a widow, decides it's time to move on with her life, she sends a letter of farewell to her late husband's email account – and gets a reply.
Helen Windom was widowed when her husband Jeff was killed in a car accident. Fairy godmother magic puts Helen in touch with Jeff's double, living in an alternate reality where she was the one who died in that accident. In his world he moved back to his parent's ranch, pursued his dream and is now a successful mystery author. Helen is ready to risk everything to be reunited – crossing alternate dimensions, guided by fairy godmother magic and an enchanted GPS – but Jeff doesn't believe in miracles or magic and his doubts may leave her lost in a limbo between worlds.
Their journey leads them cross-country and across alternate dimensions as they follow a magical scavenger hunt for the reality where they can be together.
HOLIDAY ENCHANTMENTS SERIES
Five single women-friends form a holiday club so they won't have to spend the traditional family celebrations alone. A little fairy godmother magic will change each of their lives forever.
All five heroines have known loss – and have gone on to choose paths that affirm life and friendship and caring.