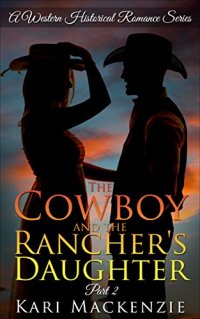 Free on 15th Dec 16



or borrow free on Kindle Unlimited.
No reviews yet.
A Western Historical Romance Book 2 in a Series of 5
Clara Fuller has her hands full trying to keep her father's ranch running. When cattle rustlers hit the county, they seem to be focused on her livestock. Her foreman, Jake Talley, and the sheriff think they have things under control when someone is shot.
Jake is suspicious when a man is seriously injured while guarding the ranch. His curiosity leads him to clues and possibly a premature grave. As Jake's feelings grow for the rancher's daughter, he vows to do all he can to keep her safe.
"What an awesome western romance book…from the beginning I was rooting for Jake and Clara against Edward Sinclair."
In "The Cowboy and the Rancher's Daughter" Book 1, Clara Fuller inherits her father's ranch, and quickly learns being in charge is not going to be all that easy. Raised around cattle, she knows the business inside and out, but few men are willing to work for a lady rancher.
Once a drifter, Jake Talley has finally found a place to call home. As the foreman of the Fuller Ranch he doesn't mind taking orders from a woman. He's willing to do whatever it takes to help Clara Fuller succeed.
Edward Sinclair is a successful ranch owner who wants more. He's used to getting what he wants and few have dared to try and stand in his way. One piece of property is all he needs to have complete control of the county. There's only one problem, the land belongs to Clara Fuller. That's all right, he's never met a problem yet he couldn't erase.
Praise for Kari Mackenzie:
"The author skillfully weaves together themes of romance, westerns, hardscrabble survivalism, second chances, loyalty, and women's empowerment into a fun read."
-Reba Linker, Amazon.com review
"The common romance stories I read these days are just full of sex with no story at all. But this book is different and I like the fact that the author shows women empowerment."
-Charlotte Smith, Amazon.com review
"A great read! This book is very well written with a strong plot. Once I started reading this book, I just couldn't stop!"
-vp09, Amazon.com review