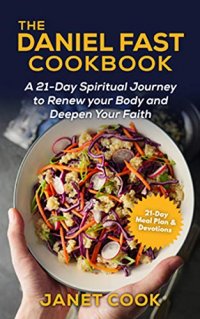 21 Days That Will Change Your Life! Nourish your body and your faith with recipes and devotions for the Daniel Fast.
Download FREE with Kindle Unlimited!
The Daniel Fast diet is far more than a diet. It?s a spiritual journey to deepen your Faith, bring you closer to God and to renew your body, feel more energized, lose weight, and get mental clarity and focus.
In the fast-paced world, we live in, we are continuously pushed around to perform and do more and that often leads to losing ourselves in more consumption and overeating. However, what we know we need deep down is serenity, simplicity, peace, and quietness. Doing a 21-day Daniel fast will help you pause and recharge to take time for your spirit and undo the damage to your physical body.
By following Daniel Fast 21-Day, you will:
nourish your body with plant-based foods like God intended us to eat. With this fast, you will be making smart food choices each day.discover and follow the footsteps of Daniel as he embarks on his fast to purify his body and mind and get a Closer Connection with God.pray with daily devotions that will help you overcome the challenge of fasting and grow your relationship with God as you read scripture that will support your fast, let you reflect, meditate, and get guidance from God.conquer your food cravings and have a healthier more peaceful lifestyle
Inside this illustrated cookbook, you will find:
a quick history of the Daniel Fast and the modern-day Daniel Fasthow to prepare to do a fast like Danielthe guidance to follow the Daniel Fast including what to eat and not to eat and how much to eatthe frequently asked questions (FAQ) that could comes up when you start and follow the Daniel Fasta 21-day meal plan with all the recipes101 plant-based Daniel Fast recipes21-day devotions
Example of recipes include:
BreakfastHealthier Morning OatmealMorning Glory MuffinsEgg-Free Tofu ScrambleCrust-Less Mushroom QuichesUnique Quinoa BreadAnd more!SoupsNourishing Carrot SoupWarming Corn ChowderFlavor-Packed Lentil SoupHearty Black Bean SoupAnd more!SaladsMediterranean Quinoa SaladProtein-Packed Quinoa SaladVegetarian Taco SaladWholesome White and Red Bean and Apple SaladAnd more!Main CoursesThree-Veggie CurryFancy Stuffed Bell PeppersBest-Ever Tofu BurgerMeatless Dinner bowlAnd more!SmoothiesAnti-Inflammatory SmoothieGreen Tropical SmoothieVibrant Pink SmoothieMorning Glory SmoothieAnd more!Snacks and Small BitesDeliciously Spiced AlmondsClassic Vegetarian CroquettesSatisfying Zucchini ChipsMini Energy BitesAnd more!
Recipes come with images, a detailed list of ingredients, number of servings, prep, and cooking times, easy to follow step-by-step instructions, and nutrition facts.
Read on your favorite devices such as Kindle, iPhone, iPad, Android cellular phone, tablet, laptop, or computer with Amazon?s free reading Kindle App.
Start your Daniel Fast journey and strengthen your relationship with God as you learn to fast like Daniel and renew your body, spirit, and mind. Your path to spiritual health begins now!
Scroll back up and click the BUY NOW button at the top right side of this page for an immediate download!