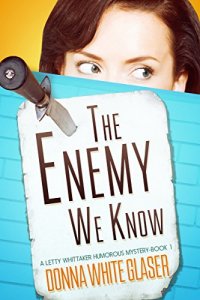 Free on 23rd Sep 18



or borrow free on Kindle Unlimited.
No reviews yet.
Suspense, Humor, Romance – and maybe a killer or two.
The Letty Whittaker 12-Step Mystery series—edge-of-your-seat suspense sprinkled with laugh-out-loud moments. Fans of humorous mystery writers Janet Evanovich, Carl Hiaasen, and Harlan Coben have fallen in love with this wise-cracking amateur sleuth. Think: love child of Stephanie Plum and Alex Delaware after a wild night of Twister and tequila shooters. Book 1, The Enemy We Know, is available now as a free Kindle ebook. Don't miss this funny mystery series!
"The Enemy We Know is an intriguing, funny, and moving story peopled with characters you will remember long after the last page. If Letty lived in my neighborhood I'd buy her a virgin margarita and talk about all the people we know who are just as odd as we are."
-Lois Greiman, award winning author of Unzipped
THE ENEMY WE KNOW

Psychotherapist Letty Whittaker, a professional secret keeper, has a secret of her own. When one of her clients slips free from an abusive boyfriend, Letty becomes the target of his violent rage. Wayne invades Letty's life, slithering his way past the barriers erected between her personal and professional lives, leaving gifts of dead rats, mutilated dolls, and freaky Shakespearian sonnets. Worst of all, Wayne uncovers Letty's deepest shame, infiltrating her AA group and threatening to expose her to the state licensing board.
And then–good news–Wayne is murdered. The bad news? The police suspect Letty. Worse yet, the sonnets and bloody souvenirs keep coming. Someone else has been watching Letty. Someone eager to drop bodies at her feet like a cat offering dead mole trophies to his mistress.
Someone willing to kill again.
Series Order

Book 1: The Enemy We Know Newly recovering alcoholic and psychotherapist Letty Whittaker thinks the client whose campaign of harassment includes threatening to expose her deepest secret is her biggest problem. When the client and Letty's own boyfriend are murdered and dropped at her feet like a cat's dead mole trophies, she realizes bad can always get worse.
Book 2: The One We Love After the mysterious death of a colleague, psychotherapist Letty Whittaker "inherits" her friends clients from the local domestic abuse shelter, and makes some disturbing discoveries: stolen files, an AWOL resident, and an unexplained ethics complaint.
Book 3: The Secrets We Keep When psychotherapist and recovering alcoholic Letty Whittaker responds to a middle-of-the-night crisis call, she knows helping Trinnie face her demons won't be easy. However, instead of finding her friend dead drunk, Letty finds her just . . . dead. And Paul, another close friend, is the primary suspect.
Book 4: The Blood We Spill When her best friend disappears into the depths of a religious cult, Letty Whittaker is forced to cut ties with her safe life and plunge into a world of fanaticism, hypocrisy, and danger.