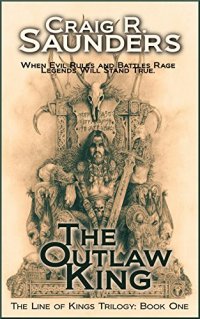 *The Line of Kings: Book One (Revised Edition).

Low Price as introduction to The Line of Kings Trilogy.

*Contains bonus short story 'The Witch's Cauldron' and Glossary.*
The old king dies, murdered with only the moon to bear witness. Now, a tyrant rules the land of Sturma in an iron grip, and a terrifying new threat masses across the ocean on the world of Rythe. The land, and humanity itself, balances on the brink of destruction.

But hope remains, for the line of kings lives on in one man.

He is the hunted man. The master of the blade. The leader of the lost.

He is the Outlaw King.
Cover art: Chris Taggart.
Note: The Line of Kings Trilogy is an extended prequel to The Rythe Quadrilogy. Either series can be read alone. Consider saving on the price of the Line of Kings Trilogy by purchasing the Boxed Set edition, including all three tales: The Outlaw King, The Thief King, and The Queen of Thieves.
Craig Saunders is the author of many novels and novellas, including Rain, A Stranger's Grave and Deadlift. He has stories forthcoming from DarkFuse, and more fantasy tales set in the world of Rythe.

He lives in Norfolk, England, with his wife and three children, likes nice people and good coffee. Find out more on Amazon, or visit:
www.craigrsaunders.blogspot.com

www.facebook.com/craigrsaundersauthor

@Grumblesprout
Coming Soon: Beneath Rythe: The Rythe Quadrilogy/Book Four.