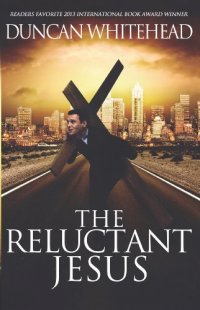 A wild and romping quirky comedy from the author of the bestselling and award-winning novel, The Gordonston Ladies Dog Walking Club.
The year is 1999 and the millennium is fast approaching. Baseball fan and thirty-two-year-old confirmed bachelor and architect, Seth Miller, is content with his life, as long as the Yankees win and his mother stays away from his Greenwich Village apartment. Seth's life though is turned upside down when he is informed by his overbearing and overprotective mother that he is God's youngest son, and by default the second coming of Christ.
Initially convinced that his parents are crazy, his thoughts of their committal to a suitable care facility are superseded when he receives an unsolicited telephone call from God himself. With Armageddon fast approaching, and due to some poor editing and proofreading of the Bible, Seth must assume the role of Christ and fight God's corner in the 'Final Conflict' between good and evil. Despite his initial reluctance and attempts to shirk his new responsibilities, God is insistent, and Seth is cajoled into undertaking the role of Messiah.
With his best friend, and chief follower Bob Nancy, Seth embarks on a calamitous sequence of miracle doing and disciple gathering, all of which fail to inspire the legions of followers expected by God, but leads to a bout of food poisoning for a troop of visiting boy scouts and a suspected attempt on the life of the Mayor.
God, a somewhat nonchalant character, is far more preoccupied with the lack of IT and administrative support he is receiving in heaven, than actual events on Earth; and is already planning to move on to other planets that he and Lucifer are in the process of developing for 'future projects'.
Enter Maggie De Lynne, as Seth's second disciple and love interest, who adds her own perspective to Seth's predicament; which is only compounded when a just as unsuitable anti-Christ, suffering from IBS and with a penchant for dressing up as cartoon characters, visits his apartment.
Throw a 'gangsta' rapping Guardian Angel and Walter, the talking cat – who used to be quiet as a mouse – into the mix, and the scene is set for a hilarious tale of one man's reluctance to save the world and join the family business.
This book is ideal for those who enjoy:
Dark Comedy Books, Comedy Books, Witty, Witty Humor, Funny Authors, Quirky books, Quirky Fiction
This book is for you!