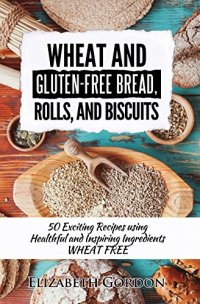 Free on 21st Dec 20



or borrow free on Kindle Unlimited.
No reviews yet.
50 Gluten Free, Wheat Free recipes for baguettes, sandwich loaves, rolls, hamburger rolls, focaccia and not only savoury but sweet recipes too.
If you are following the Paleo Diet or even if you are on Candida or just going gluten free, you will be hunting for new recipes for bread, rolls and biscuits to make sandwiches and to top with all your favourite meats, cheeses or spreads.
I am very enthusiastic about these recipes and as you read through them you will see why: exciting, wholesome ingredients with new flavours that will make any meal containing bread an explosion of taste and flavour – so much more exciting and indeed healthy than that awful pre sliced white bread you get in plastic bags en masse at the supermarket.
Learn about the amazing ingredients out there other than wheat: buckwheat, coconut, quinoa, chickpea, millet, teff and tapioca.
Experiment with flavour: cinnamon, lemon, honey, pumpkin, onion, chestnut and parmesan.
Enjoy bread, but look after your digestive health at the same time.