Listing on BookAngel:
---
Recruited (Rayna Tan Action Thrillers)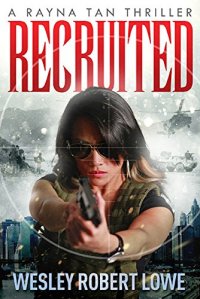 Last Free Dates: 27th Apr 19 to 1st May 19
Read More

... A disappointing prequel with a poor lead but good background. For fans of the genre only....
Rayna Tan is a Canadian Special forces member of Asian origin, who has recently had to bury one of her closest colleagues. When returning to her boyfriend, she discovers he is deep enough in debt to a drug ring that they have him killed and then pursue her to try and reclaim their losses. Fleeing for her life, she is recruited by a shadowy organisation who sees their role to help humanity by removing obstacles keeping it back. As part of the price for joining them, she also decides to go after the gang to gain revenge for their actions.
I usually approach these books with a sense of trepidation. Amazing hot lady, who knows it, with martial arts skills, a sniper extraordinaire and all-round star with a fiery temper to match. And for such a great warrior, she is rescued at least twice by other people because she does something stupid. The plot is as you would expect being larger than life with shadowy organisations and drug gangs that murder people in clubs in front of a full audience. As a character, Rayna Tan is written to as a person to be watched. Everything is about her gorgeous body or her fighting skills and less so about her as a person. Being Canadian doesn't really impact her backstory, she could be from any country and it would not really matter than it provides the particular special forces background for her.
On the plus side, the writing is neat and quick, moving the reader from scene to scene and setting up the background figures with an impressive amount of ease. The story is also well detailed on the combat side and the secondary characters bring a certain amount of life and interest to the plot that is lacking with the lead character. Looking at the author's bio, his background is very similar to Rayna's, a Canadian of Chinese descent who served in the military, and it shows, as those sections of the book work well from someone who has that experience.
But overall, the book stands and falls by its main character, and unfortunately, she comes across more as male fantasy, than seemingly a real woman, which is a shame because everything else in the prequel works. If you like the genre, you will probably enjoy the book, but its for the fans only.
Rating:
2
Reviewed by
Reviewed on:
2018-07-12
Review Policy: No compensation is received for reviews. View our Review Policy here.