Listing on BookAngel:
---
The incredible story of Dennis the cavity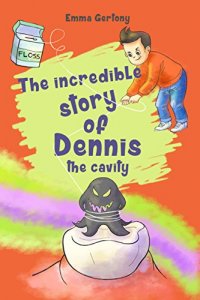 Last Free Dates: 10th Jun 17 to 14th Jun 17
Read More

...A good book for a parent who needs help getting a child to brush their teeth....
OK, it is rare I say this about a children's book, but don't read this if you've just had a tooth out. I wish I hadn't.
Gripe over with, on with the review.
The story starts with Joshua, who goes to his grans every day, eats sweets, never tells his parents, and never brushes his teeth. I suspect I have certain readers cringing, but I will just borrow the books next line:
"Deep in his mouth, unknown to him, something was happening, something bad."
Enter Dennis the dental caries, who wakes up in his mouth and launchs a bid to take over. My compliments to the illustrator for making the image of Dennis genuinely unpleasant.
It describes the way a cavity forms in terms of an evil army of bacteria attacking teeth, so it might be a bit dry at points, but it is something children need to know and a good way of teaching it to them. The writing is simple but not condescending, and aside from some of the bacteria names, children should be fine with reading this or having it read to them. The formatting is very good and deserves a mention. Each page had full colour pictures, and while the text appears embedded on it, double clicking allows enlargement.
A good book for a parent who needs help getting a child to brush their teeth.
Rating:
3
Reviewed by
Reviewed on:
2017-07-26
Review Policy: No compensation is received for reviews. View our Review Policy here.