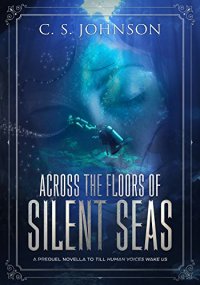 Do mermaids believe in humans?

While working on a deep-sea diving assignment at the University of California, oceanography student Jay Bishop is dragged into a volcanic tube towards the earth's core and certain death.
But much to his surprise, Jay not only survives the fall, he finds himself taken prisoner by a community of mermaids and kept alive as a science experiment. Confused and disoriented, Jay's only hope to escape back to the surface is found in Paga, an elder of the community who believes Jay's unexpected arrival marks the fulfillment of a terrifying prophecy.
With the community rising against them, Jay and Paga face dangerous choices — and their consequences — if Jay is ever to see home again. Will Jay make it back to the world on the surface? And even if he does, how can his life be the same ever again?
FROM THE BOOK:
"Are the others boring you to death, that you're listening so intently to my remarks, darling?" Jay asked, teasing even though he welcomed her churlish chatter.
"People confuse boredom for stability, and stability for sanity," she muttered.
Jay laughed. "Well, I'm sure some people would never assume we had a solid grip on sanity before we decided to become oceanographers. With several metric tons of water pressure surrounding us at these depths, I'm sure someone would be quick to question our mental facilities and their working order."
"True enough, brother mine." Noelani paused, and Jay knew she was likely rolling her pretty eyes. "And yours especially, since your sanity was barely there to begin with."
FROM THE AUTHOR:
Enjoy this short story adventure tale set before Till Human Voices Wake Us, a science fantasy novel with an unlikable protagonist, sadistic mermaids, and the trip of a lifetime.
WHAT REVIEWERS ARE SAYING:
"Very exciting prequel!! Lots of mystery and suspense. Can't wait to read the next one!" ~ Dee Bookworm Book Reviews
"This is a very entertaining read, very action filled opening followed by a philosophical middle, with a thrill ride of an ending." ~ Author C. O. Bonham