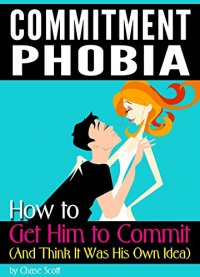 If the man in your life has Commitment Phobia, then this book is for you!
Today only, get this incredibly useful guide for only $0.99. Regularly priced at $4.99. Read on your PC, Mac, smart phone, tablet or Kindle device.
This book is specifically created for women like you, who wish to decode that thing called "commitment phobia" in men. All human beings possess the urge to merge with the other half. But on the other side, humans also have this equal desire to be free to make decisions without compromise. Achieving a balance between these two needs is called "commitment." Yet, the problem is that these two needs can be in opposition with one another. Fear of getting into a commitment is common in men. And if you are a woman who is in love with a man who does not want to commit, this book can help you reverse the entire situation without appearing desperate and needy. Do not let a wonderful relationship face failure just because of commitment issues. Go ahead and let your men say what you have been waiting to hear for so long by taking into consideration the tips and information presented in this book. After reading this, you will realize that making your man commit to you is not so tough after all.
Here Is A Preview Of What You'll Learn…
Is He Truly Commitment Phobic? (How to Spot a Commitment Phobic Man)His Reasons – and Will He Ever Commit?Friends with Benefits – How to Get Out of the Booty Call ArenaStrategies for Breaking Down His Walls5 Rules of Getting Him to CommitMuch, much more!Download your copy today!
Tags: make him commit, get him to commit, commitment phobia, how to get him to commit, how to get a man to commit, how to make him commit, how to get a guy to commit, getting him to commit, make him want to commit