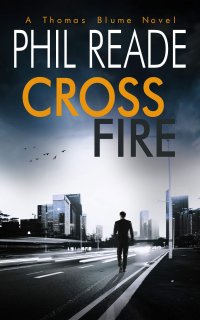 Free on 23rd - 27th Feb 16



or borrow free on Kindle Unlimited.
Also Available as:
Print Edition

Top - Reviews - Newspaper - Update Details
Betrayal. Mystery. Revenge…
When ex-New York Detective Thomas Blume is asked to play bodyguard at a high-class London party he figures that it should be a night of easy money and free booze.

But easy and free are never what they seem…
The sudden disappearance of two girls throws the night into chaos and now lives are at risk.

One girl is the daughter of wealthy local industrialist Andrew Hyde… the other, the daughter of his close friend Amir.
Why were they taken? And how does it all connect to Blume's investigation of his family's murder?
Now Blume must use all his skills in a race against time to track down the girls and find the kidnappers before it's too late…
CROSS FIRE is an exhilarating, hard-boiled mystery that will grip fans of Michael Connelly, Robert Crais, Raymond Chandler and more. Get your Copy Now!
What people are saying about the Thomas Blume series:
'…the author delivered a WOW bomb in the epilogue' – FictionZeal.com
'Blume is sure to become the next timeless hero of detective fiction.' – Red Rock Bookworm
'It reminds me of Raymond Chandler's work. It's noir, dark, full of rainy streets, seedy bars and characters with their own secrets.' – Author, Victoria Randall
'I started reading it last night and didn't put it down until I finished. I highly recommend this book to anyone!' – Joe Schaeffer, EBL
Click and get your copy now!
Tags: hard boiled mysteries, mystery, mysteries, noir, private investigators, hard boiled thriller, hard boiled detective fiction, hard boiled private investigator mystery series