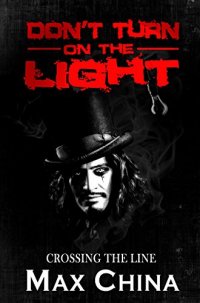 Free on 29th Oct 18 - 2nd Nov 18



or borrow free on Kindle Unlimited.
No reviews yet.
What people are saying about Don't Turn on the Light: Crossing the Line:
"Max China has given the concept of something malignant lurking in the cellar of an old house a new and fascinating twist.
Due to the pressure of a high-powered job, Frank Cassidy has suffered a massive breakdown. His recovery almost complete, but determined not enter the rat-race again, he and his wife Shelley decide to move out of the city and into the country, where the pace of life is slower. They find the perfect house, which needs some work, but the asking price being far below what they expected to pay, will cover this.
Less than twenty-four hours, after the Cassidy's take up residence in their new home, Frank is trapped in a peculiar time-warp and discovers he is in the clutches of a time-travelling genius.
Worried about her husband's disappearance, and frightened he might have suffered a relapse, as days pass Shelley Cassidy is terrorised by the Edwardian 'Doctor of Electricity' and harrassed by the police who suspect her of murdering her husband.
The tension rises as Frank uses all of his ingenuity to combat the man who threatens to take everything he values from him, including his life." UK Kindle reviewer
"I wasn't sure what to expect, but I was going on a trip and wanted something to read. It was so good that I ran my kindle out of juice the first day. Well written, fantastic, interesting concept and fleshed out characters that you really cared about. I'll definitely be buying his other books. Highly recommend!" USA Kindle reviewer
"Once again, Max China reeled me in by evoking an intense emotional attachment to his cast of unforgettable characters! The author effectively blends love, action, scientific theories and time travel into a complex story full of unforeseen twists and turns. What should have been a bright start in a new home for Frank and Shelley Cassidy and their two young children is thwarted by dark and ruthless time traveling magician, Edward Sparkes. We soon learn this egotistical villain with a propensity to play God is behind more than one disappearance in their home over the years and takes perverse pleasure in creating overwhelming adversity for Frank and his wife. What transpires is a testament to belief, love and sacrifice. This story is laden with suspense, heartbreak and brutality yet the courage, determination and epic victories woven into the storyline keeps the reader engaged, and on edge, throughout!" USA Kindle reviewer
"It's hard to review a book in my opinion because as the saying goes ' One mans meat etc.' but I found this book to be an excellent read giving a new twist to time travel. Try it if you like science fiction. I enjoyed every page." UK Kindle reviewer
"A weird but suspenseful story of a time traveller who went backwards but could never go forward joined with a man who accidentally went back and couldn't find a way forward." Australian Kindle reviewer
If you like crime and mystery books that don't follow the run-of-the-mill type blueprint, this book may be for you.