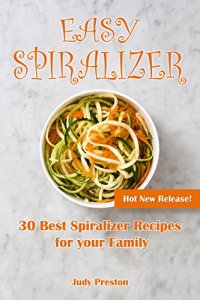 Bargain on 27th Apr 18 - 1st May 18


No reviews yet.
Replace your boring, unhealthy food with amazing low-carb vegetable noodles!
Get invaluable experience of cooking healthy and delicious meals with the help of your spiralizer and start to cook tasty homemade food with low-calorie and low-carb.
The Best Spiralizer Cookbook is an exclusive cookbook you ever seen. We used the most optimal recipes, the preparation of which will take you a little time. In addition, products that are used in our recipes can be easily found at the nearest store.
While reading this book you will be able to:
Learn 30 new and useful recipes
Learn how to cook quick and easy meals with low calories
Get a full cooking guidance
Receive complete list of necessary ingredients
Surprise your family!
It doesn't matter you are looking for a beginner's guide, look for new ideas for your family dinner or just in search of simple and healthy recipes, you will be inspired by #Best Spiralizer Cookbook!
Here's only couple recipes from Best Spiralizer Cookbook you need to try:
Paleo Breakfast Carbonara
Asian Cucumber Salad
Spicy Yellow Squash Noodles
Delicious Parsnip Pasta with Broccoli & Sausage
Cheesy Broccoli Noodle Pasta with Chicken
Choose your favorite recipe and start cooking with your Spiralizer today!
Surprise your family and friends with easy and healthy recipes.
Just scroll of the top of the page and GET OPPORTUNITY to try these fabulous recipes!