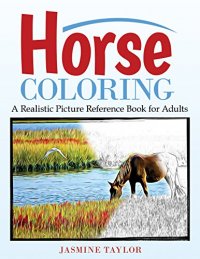 Be inspired with these realistic horse coloring page examples
Use this eBook to accompany the coloring book paperback version. These examples illustrate blending and shading techniques that are possible for you to create stunning colored equine masterpieces. The unique image design provides just enough detail to unleash your artistic liberty and freedom… unlike many other coloring books.
** PLEASE NOTE **
The eBook version is not interactive or meant to be colored as it is not possible within the Kindle environment. This eBook illustrates the blank coloring pages that exist in the paperback version for you to color yourself. You'll also find full colored examples next to each blank coloring page which show just one of the infinite coloring possibilities.
Try for yourself
If you're ready to treat yourself, unwind and bathe in the therapeutic effects that coloring can offer then grab a copy of this eBook and download a few of the FREE example coloring pages using the links provided within. Watch as your color palette and imagination awaken these beautiful horses.
If you'd like more to color, then grab a copy of the paperback version and start your coloring journey now!