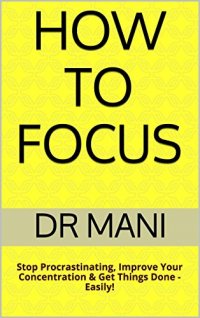 How To Focus Better – And Turbocharge Your Efficiency
LEARN:: Why Most People FAIL To Focus Better & Get Things Done
In a world of "information overload" and 24/7 distraction, your greatest challenge is to focus on what really matters. Each morning, you draw up a to-do list with good intentions – but get distracted, procrastinate or lose focus. And the next thing you know, the day is almost over. You've worked hard but feel frustrated, unproductive, pressed for time.
DISCOVER:: How To Stay Focused – And Find 3 EXTRA Hours In Your Day… Every Day!
In "How To Focus" you will learn to tune out distractions, achieve more, and enjoy deeper satisfaction – with lower stress and zero frustration. When you master the art of focus, you will become more effective – right away. This powerful guide will teach you to become laser-targeted on your biggest goals… and reach them effortlessly. You'll learn to rethink the way you manage your life.
DOWNLOAD:: How To Focus – Stop Procrastination & Get Things Done
In this guide on how to concentrate, you'll see:
how to maximize your time, effort and resources
why you find it hard to focus, and tackle distractions
how to make the right choices and set correct priorities
the secret of balancing work and family
ways to lower stress, beat procrastination and feel fulfilled
how to get effective at changing people's behavior
how the world's most successful people practice focus
Your ability to focus controls your future.
It's not hard.
Just take action consistently on four key areas.
Start right now with the lessons in "How To Focus"!