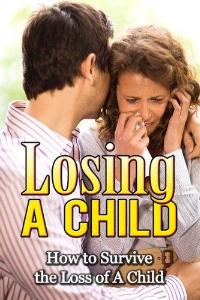 Learn How To Survive The Loss Of A Child And Begin To Move Forward And Welcome A New Journey.
Today only, get this Kindle book for just $0.99. Regularly priced at $4.99. Read on your PC, Mac, smart phone, tablet or Kindle device.
Dealing with death is one of the most difficult life experiences that a person has to go through at some point. Whether it is the death of a family member, a friend, or just someone you know at work, it always creates some impact in your life. For a parent, losing a child is very devastating. Grieving the loss of a child is simply the hardest trial of any parent. How to survive the loss of a child takes more than just comforting words or hundreds of sympathy cards. Healing after loss requires a deeper understanding of grief recovery.
Parents that are dealing with a recent death should come to terms with the idea that they should find means to deal with their grief and loss. The best way to do this is to find out about grieving through a book. Yes, counseling may help a lot but not until you are ready to open yourself up to other people. With this book, you can prepare yourself with moving forward so you are ready to use other therapies that are pointed towards dealing with grief.
Since the grieving process has a lot of stages to go through, it is important that any parent who has experienced the loss of a child has an idea about: grief and bereavement, grief and depression, and grieving the loss of a loved one.
All of these points are discussed thoroughly in this book. With this grief recovery handbook, a parent's journey during the difficult ordeal of losing a child will be much easier.
The following Chapters will walk you through the following topics:
Understanding Grief and Its Stages
Losing a Child
Infant Death, Stillbirth, Miscarriages
When an Adult Child Dies
Coping and Overcoming
Moving On and Remembrance
It is such a comfort to learn about how to survive the death of a loved one especially when it comes to children and death. Helping yourself emotionally through this book simply means that you are well-prepared to move on. Moving on is not about forgetting your child after his or her death but rather helping yourself recognize the existence of other people who love you, so you can move forward and continue living after losing a child.
Take action today! Help heal yourself, learn how to let go and embrace a new journey. Grab a copy of this book: "Losing a Child: How to Survive the Loss of a Child" for a limited time discount of $0.99!
Download NOW!
Tags: Losing a child, How to Survive the Loss of a Child, Healing after loss, dealing with grief and loss, grief recovery, grieving the loss of a child, dealing with death, dealing with a recent death, How to Survive The Death of a Loved One, the end, how to deal with death, coping with grief, grief and loss, grief and bereavement, grief and depression, grieving, grieving the loss of a loved one, grieving process, dealing with grief, moving forward, how to deal with grief, coping with loss, grief and grieving, grief recovery handbook, children and death, death of a child, living after losing a child, a parent's journey