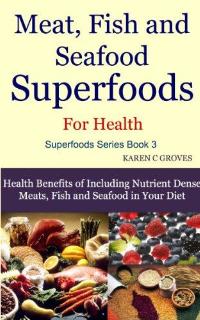 Do You Want Some Healthy 'Real Food?' Like Surf 'N Turf?
Then this is the book for you!
READER REVIEWS
"This book assists you in making friends with the real foods called proteins."
". . . great compilation of the best organic and natural meats, fish and seafood . . ."
"This is a great resource for eating healthy."
"If you are serious about living a long, healthy, and happy life, I highly recommend purchasing this . . ."
It provides all the concrete guidance you need."
Here is the Skinny About This Book:
This book is a guide to the most nutrient dense meats, fish and seafood you can buy – from Beef and Bison, to Tuna and Turkeys – with Lobster, Oysters and more in between. These nutrient dense meats, fish and seafood can help your body produce and maintain healthy muscles, bones, skin, hair, blood, organs and glands; they can improve your cardiovascular health, and more. You'll learn their nutritional values, health benefits, and how best to include these superfoods in your diet.
You'll Also Learn . . .
What is 'organic' and what is 'natural.' We discuss how meats, fish and seafood, and other superfoods in general, can be combined with different foods and eaten for the most benefit – how fruits, vegetables, legumes, meats, fats, nuts and grains should best be eaten.
AND INSIDE: With this Super Meats book, Get FREE Smoothie Recipes for the Top 2 Killer Diseases!
So start enjoying these healthy meats, fish and seafood today! Download this book NOW!