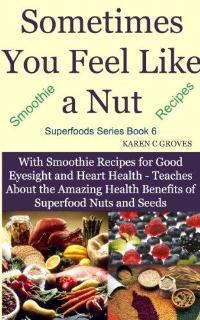 INSIDE: With this Super Nuts and Seeds book, Get a FREE Benefits of Super Fruits book!
That's right – – download this book and get a free copy of How to Benefit From Fruit Superfoods.
READER REVIEWS
"Detailed information about most every nut I would ever eat!"
"Enables me to compare specific qualities and health benefits."
"You will be amazed at some of the health benefits you can get from eating nut and seeds."
"I love smoothie, and now I know how to make them to specifically benefit my eyesight and my heart."
Yes, Sometimes You Feel Like a Nut! And if You Don't – You Should!
This is a guide to the most beneficial nuts and seeds you can buy. Nutrient dense nuts and seeds can help your body produce and maintain healthy hair, skin, nails, immune systems and digestive tracts. They are high in essential fatty acids and can improve your cardiovascular health; help prevent cancer; help fight inflammation and free radicals, and even more.
Health benefits of nuts and seeds are truly amazing, but nuts and seeds are a type of food that may cause allergic reactions or other problems, so you need to exercise caution in adding them to your diet, and I alert you to some of these issues in this book. For example, breadfruit seeds cause explosive air (farts), and in some cultures are known as 'marriage breakers.' So consume breadfruit seeds 'at your own risk.'
Get important health and nutritional information
The body of this book is organized with the list of nuts and seeds in alphabetical order. Along with a picture of each nut or seed, there is the following information:
• Nutritional Values
• Health Benefits
• Including nuts and seeds in your diet
Extensive references are provided to recipes with nuts and seeds. And I include smoothie recipes especially designed for good eyesight and heart health.
Start enjoying these healthy nuts and seeds today! Download this book NOW!