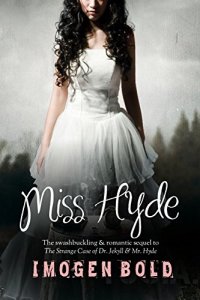 Free on 31st Oct 14 - 3rd Nov 14


No reviews yet.
Every girl has a dark side. Marion Jekyll's is Miss Hyde.
From the winner of the James D. Phelan Literary Award, comes the sensational sequel to The Strange Case of Dr. Jekyll and Mr. Hyde, set in a Vienna like no other, where fantastical inventions grace the halls of the World's Fair and anything is possible—even complete physical transformation.
All she wants is a holiday. Instead she gets a new life.
On a spring day in 1873 Marion Jekyll arrives by train in Vienna for her holiday, escaping a life in London that oppressed her and painful memories she buried as a child. She is nineteen and under the charge of her officious legal guardian, who is in Vienna on mysterious business, with Marion in tow. She has been but few things in her short life—an orphan, a bastard, an epileptic—but in Vienna she is an exciting stranger whose horizons are about to expand.
It is here, under the glittering lights of old Vienna, in a time when political unrest rules the day and cafés teem with secret meetings at night, that Marion encounters a young man she never dreamed to find. It is only here, where mesmerists plumb their patients' psyches, digging for for hidden truths, that Marion unleashes a powerful side of herself in a fight for her very life.