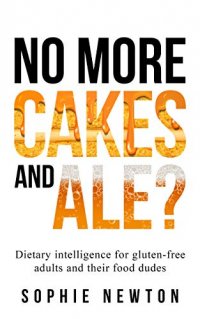 Free on 17th - 19th Oct 20



or borrow free on Kindle Unlimited.
No reviews yet.
An original and witty yet practical guide to the gluten-free diet.
Unlike some books, this book credits the reader with being intelligent.
This book covers not only avoidance of gluten but also healthy, balanced diet (the saturated fats debate and all).
Unlike some information sponsored by makers of unhealthy gluten-free food products, this book has attitude.
This book challenges conventional wisdom (where justifiable).
It is exclusively for adults.
And it covers international food regulations.
What?s more, it is meticulously researched.
Whether you?ve been established on a gluten-free diet for a while but need a midterm refresher or you?re only now going gluten-free or you shop and cook for a gluten-free person, this is for you.
Why is white gluten-free bread healthier than brown? How can it be that lactose intolerance in celiac disease sufferers might disappear after a while on a gluten-free diet? What's so special about selenium in the gluten-free diet? How can you order gluten-free meals in a country where you don?t speak the language? What is the difference between "may contain gluten", "may contain traces of gluten", and "produced in a factory that handles gluten"? Why are oats usually contaminated with gluten, even though they don't naturally contain it? Is it safe for a person with a gluten-related disorder to use a shampoo containing wheat? All these questions and more answered in the book.