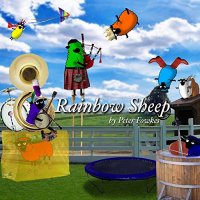 Vibrant funny pictures, simple lessons, simply fun.
After the farm is sold, the scattered animals of the Blue Barn go on to live the next stage of their lives, wonderfully unaware of their expected place in society, these farm animals go on ridiculous adventures around the world held back by nothing.
In the absurd tale of the Rainbow Sheep, a group desperate to be more special than the others in the flock go to ridiculous lengths to stand out from the herd, only to learn that they all are special to begin with.