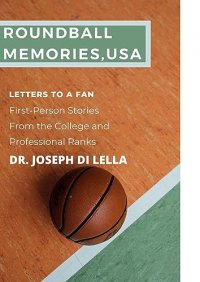 Free on 22nd - 26th Nov 23



or borrow free on Kindle Unlimited.
No reviews yet.
As both a reference guide and an oral history of the game, Roundball Memories, USA (Volume 1): Letters to a Fan takes you to the past, present and future of the NBA, WNBA, FIBA and the NCAA playgrounds of basketball through letters, conversations, phone interviews and email correspondences between the author and VIP's of professional and amateur arenas.
As a young boy, I loved basketball in all forms and emulated my heroes on the court. Whether it was Jerry West or Julius Erving, basketball was an adventure during game time on TV or in my neighborhood park. I asked looked for ways to improve my game. I read books, watched NBA and ABA telecasts, practiced and eventually made myself a decent amateur player.
I attribute my love for basketball by the games I played with my father, my close friends, and others in school or on the community or college playgrounds.
This book is dedicated to those who have adored their heroes and gives a particular insight to the game that is missed in other manuscripts or historical reviews of the game.
We start with the pioneers NBA in the 1930's and 40's, move along to the Celtics and Lakers of the 60's, the defunct but influential ABA, and up to the 1970's where no team truly dominated the pro circuit.
Other chapters gives the reader a glimpse into the medical perspective on injuries and treatment, the G League, and perhaps most importantly, the and and current challenges of the game that both fans and professionals must grasp if the NBA and WNBA are to survive.
Enjoy volume one, for volume two moves us along into the 1980's into the 2020's of the pro and college game featuring college coaches, the women's game, a case study of FIBA in Brazil, and words from broadcasters, owners and others who played and watched the game.