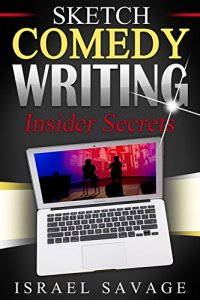 ***AMAZON BEST-SELLER***
Sketch Comedy Writing: Insider Secrets from Theater and TV Writers
Fast Forward Your Life & Career and Get Unstuck Fast
Read on your PC, Mac, smart phone, tablet or Kindle device! You don?t need a Kindle or app to download and read on Amazon.
Today is one of the final days to get Sketch Comedy Writing for a reduced price of $.99 (normally $8.99).
At IN Studios we teach Sketch 5.0 and it?s a game-changer. With this technique, you?ll get from where you are to where you want to be FAST. You?ll create work so unique, so compelling, that no one else could duplicate it.
Sketch comedy bridges the perceived gap between "improv" and "legitimate theater." We encourage "improvisers" to aspire to become sketch writers and sketch actors. The more sketches you have in your writing portfolio, and the more titles of sketch shows you have on your acting resume, the more attention you will get from the industry. This is the time to fill your writing portfolio. This is the time to fill your acting resume.
The time you spend reading and applying this book, could be the life and career game-changer you?ve been searching for.
Don't waste anymore time. Get to work!
Here's a preview of what you will learn?
What Do You Need in Your Portfolio to Write for Late Night TV
How to Eradicate Writer?s Block
How to Write Sketches That Stand Out
The Four Questions You Should Ask About Every Sketch
How to Pitch
Make sure to download your copy today and take advantage of the discount!
Tags: Sketch Comedy, Monologues, Comedy, Sketches, Funny, Bestsellers, Writer, Writers, writing, television, TV, Late Night TV, Bestsellers, Morning Routines, Success Rituals, Career Success, Job Interview Tips, Headshots, Manifesting Love, Manifesting Money, Stella Adler, Sense Memory, Audition, Auditioning, Acting, Headshots, Business, Photography, Headshot Photographers, Agent, Manager, Cast, Headshot Photographer, Acting Secrets, Meisner, Acting Guide, Show Business, Get an Agent, Improvisation, Improv, Acting for Film, Acting for the Camera, Acting for TV, Acting Books