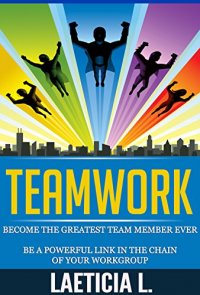 Free on 31st May 15 - 4th Jun 15


No reviews yet.
You're about to Discover how to be a Really Strong link in your Work Group!
Have you ever wonder what important information you could bring to your Team?

*FREE GIFT FOR YOU AT THE END OF THE BOOK!!*
Do you have any idea how to understand the goals of your team and take action to fast-track that objective with them?

It's easy to get lost in our role as a team member. Unless you know your core strength and the role you play in it. Which can help your team right away in the division of the work to do and the completion of all the tasks at hand.
Do you know what type of resource would be a HUGE benefit to your team?<

/i>

Other than your skills to do the work, there is a whole spectrum of elements to master in order to be the ultimate team member!
Here are some of the knowledge you will get in this book…Focusing on your Team GoalsKnow what type of Role you haveUnderstand your RoleTop Qualities of a Great Team MemberHabits to DevelopHow to Set Example for OthersCommon Mistakes to AvoidAnd a lot More!
Educate Yourself Now, you're just 1-Click away!
tags: Team member, Team management, Better Team, Team Role, Team us, Team Building, leadership, task managing, task division, business, sport, sport team, lead effectively, team problems, team issue, teaming up, game, game plan, business plan, group, peer group, team hack, group hack, leader hack, Team mind, Core Team